About Us
Joint Operations Calgary

As of 2015 Joint Operations Calgary has ceased operations and moved on. If you are interested in Milsim games and events please join us at Tactical Operations
Joint Operations Calgary (JOC) was Calgary's oldest, largest and most respected airsoft community. JOC was widely recognized as one of Western Canada's most active, influential and innovative airsoft organizations, boasting a membership of more than 1,800 players and 20 teams.
JOCs members come from a wide variety of backgrounds and have a wide range of skills and experience who not only share a passion for airsoft but also a genuine commitment to promote and expand the sport in Canada. JOC members include students, tradesmen, engineers, information technologists and healthcare professionals, as well as retired and active-duty military and law enforcement personnel.
JOCs club administrators hosted dozens of local events throughout the year, ranging from small outdoor and indoor skirmishes to large-scale, immersive military simulations (Milsims), utilizing elaborate props and incredible military vehicles. In addition, JOC organizes several interprovincial and international trips each year to attend airsoft events in Saskatchewan, Manitoba, the United States and Europe.
What You'll Need to Play ...for Indoor Play:
Goggles or glasses with a strap rated to CSA/ANSI Z87.1 or higher, AEG/GBB that shoots 320 FPS or less and lower face protection (recommended).
...for Outdoor Skirmishes:
Everything above, plus clothing suited to the weather, sunscreen, insect repellant, decent footwear and plenty of water. Food and snacks can be stored in your vehicle, as breaks are taken throughout the day. Weapon velocities up to 420 FPS for semi/full auto; 475 FPS for bolt action guns.
...for Outdoor Milsims:
Most Milsims are held outdoors and last for several hours or days. Adequate food, water, and extra clothing are a must, and should be carried with you since there are no breaks in gameplay. A compass and whistle are also mandatory as many venues are extremely large.
Check us out in Take Aim Magazine!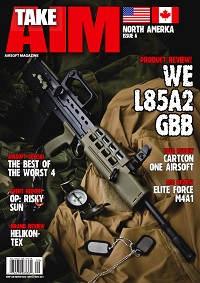 JOC Airsoft 2012